From Cory Aquino to PGMA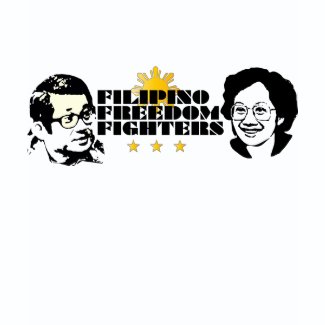 Ferdinand Marcos called for a "snap" presidential election to be held on February 7, 1986. When the Marcos-dominated National Assembly proclaimed Marcos the winner, Cardinal Jaime Sin and key military leaders (including Minister of Defense Juan Ponce Enrile and acting Chief of Staff of the Armed Forces Lieutenant General Fidel V. Ramos) rallied around the apparent majority vote winner, Aquino's widow, Corazon Cojuango Aquino. The People Power Movement—a popular uprising of priests, nuns, ordinary citizens, and children, supported by defecting military units—ousted Marcos on the day of his inauguration (February 25, 1986) and brought Aquino to power in an almost bloodless revolution.

Corazon Aquino had wide popular support but no political organization. Her vice president, Salvador H. "Doy" Laurel, had an organization but little
popular support. Enrile and Ramos also had large stakes in what they saw as a coalition government. The coalition unraveled quickly, and there were several attempts, including unsuccessful military coups, to oust Aquino. She survived her fractious term, however, and was succeeded in the 1992 election by Ramos, who had served loyally as chief of staff of the armed forces and secretary of national defense under Aquino.

President Ramos worked at coalition building and overcoming the divisiveness of the Aquino years. Mutinous right-wing soldiers, communist insurgents, and Muslim separatists were convinced to cease their armed activities against the government and were granted amnesty. In an act of reconciliation, Ramos allowed the remains of Ferdinand Marcos—he had died in exile in the United States in 1989—to be returned to the Philippines for burial in 1993. Efforts by supporters of Ramos to gain passage of an amendment that would allow him to run for a second term were met with large-scale protests supported by Cardinal Sin and Corazon Aquino, leading Ramos to declare he would not run again.

Joseph Estrada, who had served as Ramos's vice president and enjoyed widespread popularity, was elected president in 1998. Within a year, however, Estrada's popularity declined sharply amid allegations of cronyism and corruption and failure to remedy the problems of poverty. Once again, street rallies supported by Cardinal Sin and Corazon Aquino took place. Then, in 2000 Senate investigators accused Estrada of having accepted bribes from illegal gambling businesses. Following an abortive Senate impeachment trial, growing street protests, and the withdrawal of support by the armed forces, Estrada was forced out of office on January 20, 2001.

Vice President Gloria Macapagal-Arroyo (the daughter of the late President Diosdado Macapagal) was sworn in as Estrada's successor on the day of his departure. Her accession to power was further legitimated by the mid-term congressional and local elections, when her coalition later won an overwhelming victory, but the elections were fraught with allegations of coercion, fraud, and vote buying. Macapagal-Arroyo's initial term in office was marked by fractious coalition politics as well as a military mutiny in Manila in July 2003 that led her to declare a month-long nationwide state of rebellion, as a result of which charges were filed against more than 1,000 individuals. Macapagal-Arroyo had declared in December 2002 that she would not contest the May 2004 presidential election, but she reversed herself in October 2003 and decided to run. She was reelected and sworn in for her own six-year term as president on June 30, 2004. With this new mandate, she was able to move with greater assurance on the political and economic reform agenda that had stalled during her first term in office.